Law Clerks Aiya, Diego & Dan Participate in 'Law Clerk Day' 
Author: Aiya Harb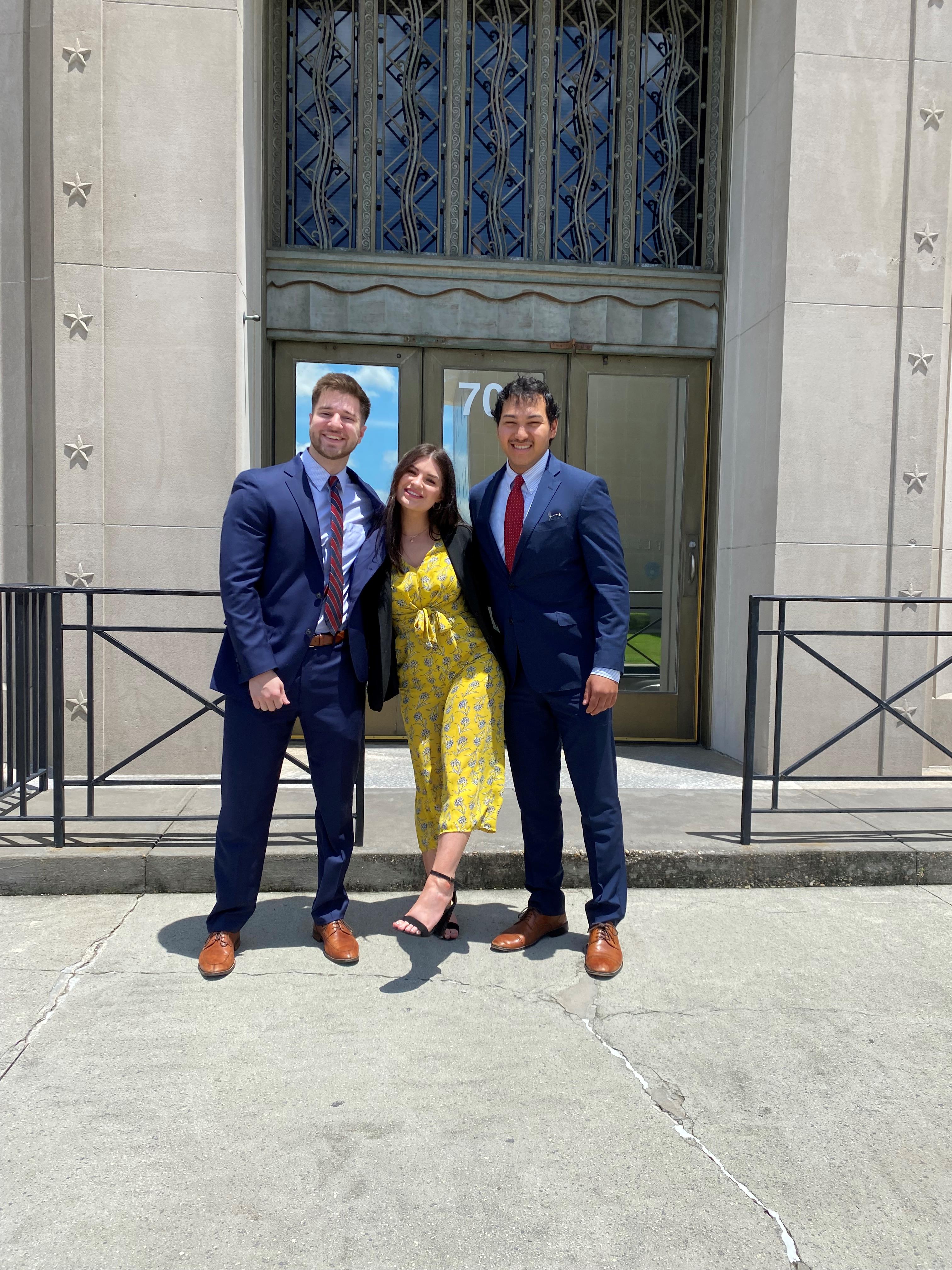 This past Tuesday, July 18th, our Law Clerks – Aiya, Diego, and Dan, were invited to participate in "Law Clerk Day" at the United States Middle District of Louisiana.
This program is designed to encourage law students to become more comfortable being in federal court, while networking and making connections with some of our city's prominent figures. While there, they were able to hear from numerous speakers including U.S. Attorney, Ron Gathe; Chief Deputy Hon. Shelly D. Dick; and Assistant Federal Public Defender Marci Blaize.
The agenda of the day consisted to multiple speakers, a presentation about how to approach and write correctly for cases in the Federal Court, and three court proceedings. The Law Clerks were able to watch two criminal proceedings and one civil proceeding. The criminal matters were especially interesting because they coincided with work that we have been able to do at the firm.
Here's what our clerks had to say about their experience!
"Law Clerk Day was an incredible experience! Being in a room full of top-notch attorneys and students made me all the more excited to graduate law school and enter into practice. The highlight of my day was when I was able to speak with Ms. Blaize. As the Ass. Federal Public Defender, Ms. Blaize encouraged women to become criminal defense attorneys and explained the importance of having more women in practice. Everyone was so personable and really made it clear that there were no 'stupid' questions. In fact, two of the judges gave us a quick lesson on jurisdiction and how to write to the court. Not only was this incredibly informative, but it was a surreal experience to be able to learn from those who may be presiding over your case in the future. Being able to be in the Middle District. I was able to imagine myself as a practicing attorney. I can't wait to hopefully go back!" Aiya Harb
"The experience that we had at the Middle District was incredible and very informative. Not only was I able to meet and hear from several judges, US attorneys, clerk of court, etc. it was great to meet several other law clerks and have an opportunity to network with lawyers I will soon meet. My favorite part of the day was when the Magistrate judges gave us a short presentation on the general procedure of US District courts as well as explained local court rules. A large part of my job as a law clerk here at the Scott Law Firm is drafting a Writ of Mandamus in Federal Court when USCIS fails to issue VISAs, Green Cards, and other benefits. The guidance of these judges helped me understand how to better write these pleadings to work more efficiently for the benefit of our clients. Community events like these are what inspire me as a law clerk and what I look forward to when I am an attorney!" Diego J. Matus
"The law clerk meetup at the federal district court was fantastic. The privilege of meeting other law clerks, judges, and veteran attorneys who shared their different experiences in their field was very educational. Their insight, along with learning about how the federal court operates, was extremely helpful and contributed to an unforgettable experience." Dan Harbison