Being involved in a motor vehicle collision can be a traumatic experience. Whether it is a major crash with extensive property damage and injuries or a minor fender bender, the associated stress and anxiety can seem insurmountable. Rest assured that The Scott Law Firm is here to assist you through this difficult time. If you have been involved in a wreck and it was not your fault, hiring us to protect your rights is a crucial part of recovery. While our job is to represent you in connection with your losses stemming from the crash, there are certain commitments we will require of you. Our top priority is to see that you get the necessary medical attention to help you get back on your feet and back to work. To accomplish this, a commitment from you to follow through with treatment and follow exactly your physicians' instructions is required. It is also important to keep us apprised of any new addresses or phone numbers so we can reach you when we need to discuss your case.
During this process, our focus will be on your bodily injury claim. Within this claim, there are several types of damages to which you may be entitled to recover. Injury to your person such as neck, back, extremities, head, etc.… are all specific items of damages. Other damages can be in the form of lost wages, as well as future wages because you either aren't able to return to work, or you can return, but at a diminished capacity. As for property damage, the damages to your vehicle are recoverable, but this process works differently than the claim for bodily injury and is often handled by a different adjuster within the same insurance company. We will discuss this process in further detail below.
INJURIES
Following a motor vehicle crash, the most important thing is your health. Depending on the severity of the crash, you may not have felt any immediate pain. Following a crash, your adrenaline is elevated which can delay symptoms of pain as much as a day or two. Nevertheless, it is important that you seek medical attention as soon as possible. Following the crash, the investigating police officer or emergency responders may ask you if you are hurt. While you may not feel any pain at that time, remember that it can take a day or two for symptoms to manifest. In a severe crash, you may be transported to a local hospital by ambulance. In less severe crashes medical treatment will be up to you, but getting checked out by your primary physician, an emergency room or even a walk-in clinic is something you should seriously consider. If you are unsure of where to go for treatment, we can assist you with recommendations, or even coordinating appointments with various healthcare facilities.
As time goes by and as your treatment progresses, our hope is that you will begin to get back to normal and that your pain has either significantly diminished or completely resolved. But keep in mind that injury resolution takes time. Depending on the severity of your injuries, it can take months to years for your symptoms to resolve. In some cases, they never completely resolve, but should at least become tolerable, but no resolution of your pain is successful without the appropriate medical treatment.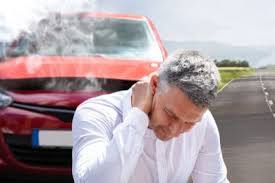 PROPERTY DAMAGE
Understanding your priorities following a crash will help diminish the amount of anxiety you will experience. Health first, property damage second. The following instructions will help you navigate the process of getting your vehicle repaired, or if totaled, getting the insurance company to pay you fair market value. Knowing what to expect and how to deal with the insurance company will reduce the anxiety and fear that can be associated with the process.
Besides your physical wellbeing, you will be concerned about the damage to your vehicle. You may also experience anxiety from the uncertainty of dealing with the insurance companies to get your vehicle repaired. For most of us, our vehicle is our lifeline. It's what allows us to work, provide for our families and be productive members of society. Getting it repaired can become your priority and you may lose sight of taking care of your injuries. But remember, whether you get your vehicle repaired or not, if you are unable to work because you fail to seek medical attention and follow your physician's advice, a working vehicle won't matter as much.
At this point, you have already made the decision to seek our counsel. We are here to help you through this process and will provide you with the necessary instruction and guidance. As your attorneys, we will initiate the claim process with the opposing party's insurer. This means we will contact them and set up a claim. In doing so, we will provide the insurance company with your contact information and ask them to reach out directly to you to arrange inspection of the vehicle.
Once the insurance company has arranged a time and place to view your vehicle, they will either send out an adjuster to inspect and photograph the damage or ask you to provide them with photos of your car. They may even ask you to bring the vehicle, if safely drivable, to a designated damage estimate service. Once this is completed, the insurance company may issue you a check for an amount they believe will cover the cost of repair. In some cases, this amount is not enough to cover the full extent of the damages. Following this inspection, you have the right to take your vehicle to a body shop of your choice. Once there, the body shop personnel will perform a more thorough inspection and develop an estimate to repair your vehicle. It is likely that the estimate performed by the body shop will be more than the estimate performed by the insurance company. Most reputable body shops will then contact the insurance company and advise them that there was more damage than what was seen by the insurance adjuster, and will therefore cost more than the initial estimate. At this point, the insurance company will either send their adjuster to the body shop to inspect the vehicle again, or simply issue a supplement check to cover the additional charges. During this process, your only involvement is to bring the vehicle to the body shop.
If your vehicle is declared a total loss, the insurance company will be required to pay you the fair market value of your vehicle. This will probably not be satisfactory to you, but it is all the insurance company is required to do under the law. There is very little room for negotiation when it comes to property damage loss.
At any time during this process, should you have any questions, do not hesitate to call us and we will do our best to guide you through.