Paul "Woody" Scott
Founding Member
Paul "Woody" Scott is passionate in his representation of clients. Mr. Scott founded The Scott Law Firm and practices in immigration law, deportation and removal defense, criminal defense, and Federal Criminal and Immigration Litigation.
Mr. Scott was born in a small hospital in San Pedro Sula, Honduras. At two years old he and his mother moved to the New Orleans, Louisiana, area where he was raised. After he graduated from Archbishop Rummel High School in Metairie, he moved to Baton Rouge where he attended Louisiana State University to obtain his bachelor degree. He went on to receive his Juris Doctor and Bachelor of Civil Law from the LSU Paul H. Hebert Law School.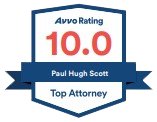 During his studies, Mr. Scott performed extensive travel and study of Latin America and the Latin American Legal Systems. Fluent in Spanish, he spent a semester of law school studying at the prestigious Universidad Austral Facultad de los Derechos located in Buenos Aires, Argentina.
Throughout his life, Mr. Scott has watched family and friends work themselves through the complex immigration system. For that reason, he is intimately familiar with the immigration processes and serves his clients with a sense of passion.
As an immigration lawyer Mr. Scott provides legal services in the areas of Immigration and Nationality Law, Criminal Defense, and Personal Injury. Mr. Scott is a regular guest on Radio Amor and La Nueva radio stations where he answers the questions of Spanish speaking community.
A Little More About Paul Scott
What made you choose a career in immigration law?
I was born in Honduras. I grew up seeing the immigration process and my family members going through it. I saw the frustrations they had. I wanted to be the person to help others through those difficult times.
In your opinion, what sets your firm apart from others in the area?
Our firm delivers personalized high quality representation to people and businesses. We include our clients in the process and work as a team. It's not just me doing the work; we are working together to get their goals achieved!
What steps do you take to prepare for a difficult case?
Plan, plan, plan. From the first day of any case, difficult or not, we try to make a road-map of how the case will go and what my office needs to do to get it done.
How do you view your role in the attorney-client relationship?
We like to keep our clients included in the process and making them a part of our team. Input from our clients at all stages of representation allows us to stay on the same page and moving in the right direction.
What sets you apart from other attorneys?
I try really hard to make a connection with my clients and their families. I visualize what my clients are going though and what they are feeling, thinking, seeing, etc. This helps me achieve the goals of my client because I am better able to understand what it is they want, and how to help them attain it.
How does experience in the immigration field benefit your clients?
Immigration is an area of law that is incredibly difficult and complex. Also, it is changing almost daily and many times there are rules and policies that are not necessarily written down. The only way to know how to handle a client's case in this type of environment is by relying on experience. Luckily my firm has the experience necessary to deliver the best possible result for our clients.
What types of immigration cases do you specifically handle?
My firm handles all types of immigration cases from deportation and removal defense, to family based immigration (marrying a foreign national, etc.), to business visas. No matter how simple or complex a case may be, we have the legal knowledge and ability to handle the issue for our clients.
In your opinion, what is the most rewarding aspect of your job?
I love people. The practice of law allows me to work with people and help their dreams come true, which in turn fulfills my own dreams and aspirations.
What advice do you most often give your clients?
Every case is so different that I could not even begin to summarize my most often-given advice. I always try to give the best advice at that time based on those unique situation. When it comes to immigration law, don't face it alone—always seek guidance from an experienced and supportive attorney!
Work Experience
Founder of The Scott Law Firm, LLC
Jeri Flynn & Associates APLC, Baton Rouge, Louisiana - Associate Attorney
Practiced all areas of immigration and international law and criminal defense
Legal Orientation Program, Jena, Louisiana - Contract Attorney
Give monthly legal information sessions to detainees awaiting immigration court in LaSalle Detention Center in both English and Spanish
Raising the Bar Foundation - Contributing Writer
Contributed to the writing of a handbook addressing immigration consequences for Louisiana criminal defense attorney's representing immigrants charged with crimes in both federal and state courts.
Education
Paul M. Hebert Law Center, Louisiana State University
Received a Juris Doctorate (J.D.) and a Bachelors in Civil Law (B.C.L.)
Universidad Austral, Buenos Aires, Argentina
Studied post-graduate law
Studied and researched legal systems of international law and Latin America
Louisiana State University, Baton Rouge, Louisiana
Received a Bachelors of Arts in Political Science with a concentration on International Relations
Trinity University, Dublin, Ireland
Studied international politics
In The Media
Radio
Regular guest on Radio Amor and La Nueva
Published Works
Published Case Victories
Mr. Scott has been fortunate enough to have two victories which the Board of Immigration Appeals has published setting precedent case law.
Matter of Flores-Aguirre, 26 I&N Dec. 155 (BIA 2013)
Matter of Diaz-Garcia, 25 I&N Dec. 794 (BIA 2012)
Other Published Materials/Books
Mr. Scott has been featured in the book "Solo by Choice, The Companion Guide: 34 Questions that Could Transform Your Legal Career," by Carolyn Elefant. He has also been profiled by a practice management company.
Speaking Engagements
Mr. Scott is frequently asked to speak at conferences on evolving issues in immigration and criminald defense.
"Technology and Immigration Law Practice" - Louisiana State Bar Association. April 2018, New Orleans, LA
"Crimmigration: Criminal Statutes and Cases and Their Effects on your Immigrant Clients" - AILA Mid-South Chapter Conference. November 13, 2015 Louisville, KY
Updates in "Crimmigration" Law ; AILA Ohio/Mid-South Fall Conference. October 2013, Cincinnati, Ohio
Provisional Waivers: Start to Finish;AILA Ohio/Mid-South Fall Conference. October 2013, Cincinnati, Ohio
How Immigration Affects you Non-Immigration Practice, Louisiana State Bar Assocation, April, 2014, New Orleans, Louisiana
60 Apps in 60 Minutes, AILA Midsouth Conference in New Orleans. October 2014
Updates in "Crimmigration" Law, AILA Midsouth Conference in New Orleans. October 2014
Languages
Mr. Scott is fluent in both Spanish and English
Memberships
Admitted to practice in all Louisiana state and municipal courts
Admitted to all Federal Courts in Louisiana
Admitted to the 5th and 11th Circuit Courts of Appeal
Admitted to practice in all immigration courts nationwide
CJA Panel - Representing criminal defendants in Federal Criminal Court
Practice Areas
All Areas of Immigration Law
All Misdemeanor and Felony Criminal Defense
State and Federal Crimes
Post Conviction Relief
Expungements
Automobile Accidents
Criminal Defense Case Results
Aggressive Defense that Wins
Asylum granted to victim of gang violence Immigration

Cancellation of removal granted Immigration

Adjustment of status Immigration

Granted cancellation of removal and release from ICE custody Immigration

Asylum granted from Mexico after persecution based on sexual orientation Immigration

Mexican National granted cancellation of removal and allowed to return home to family. Immigration

Client from Bangladesh granted asylum after fleeing violence in his country Immigration

Asylum El Salvador client granted asylum after being threatened by gang Members

Immigration Judge grants a readjustment of status Immigration

Mexican national granted Cancellation of Removal in the New Orleans Immigration Court. Immigration